Why the New Audi A5 Marks the Perfect Entry Point to Luxury Vehicles
A new Audi A5 represents a very attractive middle of the road option for luxury car buyers today. If you are searching for that perfect combination of affordability and luxurious features, then the A5 just might be the vehicle for you. The A5 comes in three superb models that are suitable for all types of drivers. Whether you are looking for a sporty coupe to race around the streets of Erie, PA, or a breezy Sunday drive, you will undoubtedly find these unique vehicles to be quite desirable.
For buyers in Meadville, PA, looking for a high-end sports car without an expensive price tag, you will certainly want to check out the excellent selection of A5 coupes we now have on our lot here at Audi Erie. If a sports car is not your cup of tea, perhaps you would prefer a four-door A5 Sportback that is more of a hatchback than a traditional sports car. It is perfectly suited for North East, PA drivers who expect to be shuttling around plenty of passengers throughout the year. If you are searching for something with a bit more style, though, we would highly recommend the convertible A5 now being offered that comes with the most luxurious features of any A5 on the market.
New Audi A5 Inventory
The Sporty A5 Coupe is Your New Favorite Sports Car
One of the most popular options on the market is undoubtedly the affordable A5 Coupe that demonstrates plenty of luxurious features to keep your heart pounding. This sports car possesses a number of race-inspired features that provide for an exceptional driving experience anywhere you drive around Ashtabula, OH. At the center of this experience is an Audi Sport rhombus steering wheel that provides for an exhilarating tactile sensation while on the road.
This outstanding vehicle also comes with optional Alcantara-covered seats to further emphasize its race-inspired origins. Plus, if you select the Premium Plus package, it even features a dynamic heads-up display that has three different options for the driver to customize while on the road. Classic mode presents the driver with basic information about speed and RPM alongside a detailed map with driving directions to make navigating a breeze.
When you are more interested in testing the performance of your vehicle, though, you can switch it into sport mode to emphasize the 248 horsepower engine under the hood. For drivers simply looking for a clear display of vital information, the dynamic mode is always available to give instant access to statistics relating to fuel economy and speed.
At the center of the driving experience offered by a new A5 Coupe is an MMI touch display that is designed to mimic the look and feel of a typical smartphone. Its massive 10.1-inch screen responds effortlessly to your every command with audio confirmations that will truly transform your driving experience by putting the world at your fingertips. Whether you need to instantly access important messages, or just need visual data relating to a specific parking spot, you will find this high-tech feature to be a constant source of helpful information.
Enjoy the Ultimate in Safety Features While On the Road
Audi A5 models represent the pinnacle of high-tech performance since they feature an abundance of safety features as well. These features all enhance the driving experience tremendously by greatly increasing the safety of every passenger in the vehicle. These advanced safety features include Audi active lane assist. Drifting while on long road trips is no longer a problem for Audi drivers who benefit from this feature, because it follows the markings in the road using sophisticated AI to keep your car squarely centered in your lane.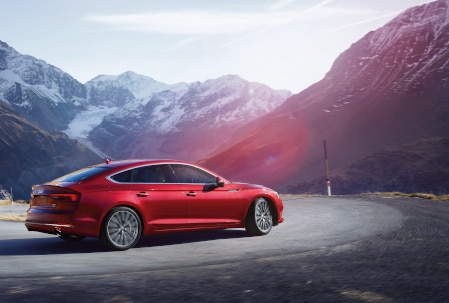 Each A5 model also features advanced safety features that can anticipate accidents before they happen. This sophisticated technology provides warnings of potential incidents before they occur while even implementing preventative measures that react quicker than a human driver is capable of responding. Audi side assist also helps to prevent accidents by providing drivers with a clear view of their blind spots. No longer must you guess whether or not a car is hidden from your view while cruising down the highway, because this technology will bring your attention to vehicles that may have unknowingly slipped into your blind spot.
High-Tech Performance Features Make Driving Far More Enjoyable
One of the most striking features incorporated into the latest A5 lineup is the flashy matrix-design LED headlights. These stunningly beautiful headlamps, which are included in the Premium Plus and Prestige trim levels, make driving much more convenient by automatically adjusting their brightness as oncoming cars approach. Advanced lasers are incorporated into their design to produce a wide beam of light when needed, but they are also capable of generating a low beam of light for city streets.
The animated taillights included in the Prestige trim package will further add to the convenience of driving by clearly making your intentions known to other drivers on the road. Plus, modern A5's equipped with the Prestige trim also feature the ability to greet you and say goodbye using sophisticated animations to provide for a very satisfying driving experience under all conditions.
If you are opting to get the incredible A5 Cabriolet now on our lots, then you will enjoy the impressive features in this vehicle that will enhance your comfort as well. While every driver wants to take control of a stylish vehicle like an A5, you will find that it's the little details that will make your friends jealous. For instance, the Cabriolet has an available heated steering wheel along with ventilated seats that will keep you at the perfect temperature as you cruise down the road with your top down. The neck-level heater will certainly surprise any guests who are lucky enough to take a ride in your car too since it will keep them warm on even the coldest of winter nights. Test Drive an Audi A5 Today
As you can see, the latest A5 lineup truly does offer modern drivers the chance to experience the pinnacle of luxury at a very affordable price. Stop by Audi Erie to learn more and test drive one of our available models near Jamestown, NY.