Audi SUVs for Sale in Erie, PA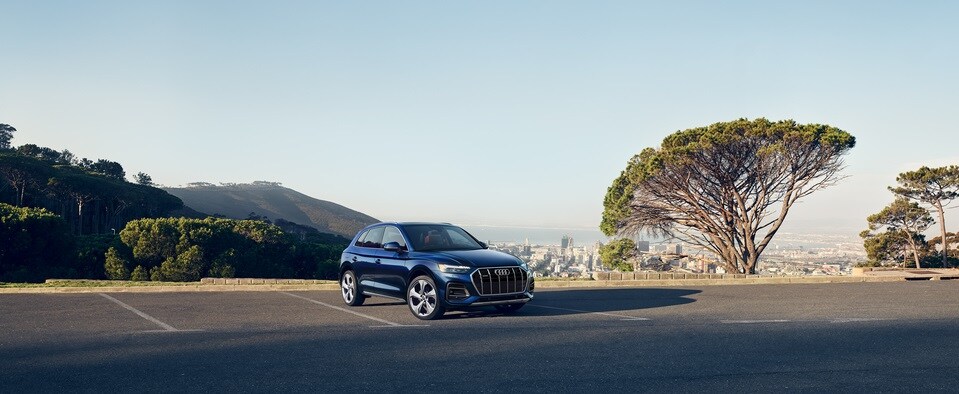 Meet the New Audi SUV Lineup: All Premium Crossover and SUV Goodness
If you thought you could overwrite Audi in the SUV race, then you are wrong. At Audi Erie in Erie, PA, we recognize that the German automaker has made great efforts in setting standards for all-things SUV. Under their flagship new SUVs, Audi sets out with a whole lineup of the latest SUVs that are distinct, sporty, luxurious, and with superb performance for all kinds of conditions in Meadville and North East, PA.
2021 Audi Q3
Drivers around Erie, PA will also enjoy the fact that the Audi Q3 still maintains its standard Quattro characteristics of a turbocharged four-cylinder model with the standard all-wheel-drive to guarantee you all-weather handling. The engine also has a full two-liter capacity and couples an eight-speed transmission to provide 228-hp from the base Q3 model.
Now, only the Premium and Premium trim models are available at Audi Erie. This is aside from the optional trim levels that include:
The Q3 Sport
The Q3 S Line
Q3 Vorsprung
2021 Audi Q5
The redesign process sees Audi having the new Q5 as a hybrid SUV capable of 261hp with 273 lb-ft of torque on its engine. The standard engine runs as a 2.0liter turbocharged four-cylinder model with a seven-speed automatic transmission and all-wheel-drive technology. A 12-volt hybrid motor is also a standard to cater to the Q5's tech-heavy electrical system.
Audi ventures much into redesigning Q5's interior by including more technology and stylistic enhancements for the package.
Like last year, the Q5 further adds new trim levels for all the powertrain variants, including:
45 Quattro Premium
45 TFSI Quattro Premium Plus
45 TFSI Quattro Prestige
55 TFSI E Quattro Premium
55 TFSI E Quattro Premium Plus
2021 Audi Q7
For 2021, Audi has the Q7 among the top three-row crossover SUV with a two-liter four-cylinder engine that makes a comeback to have the Q7 performance peaking at 248 hp and a maximum torque of 273 lb-ft. Audi still makes the engine variations available at Audi Erie, particularly the turbocharged 3.0-liter V-6 engine. Still, both engines maintain the standard eight-speed automatic transmission alongside the Quattro all-wheel-drive system.
2021 Audi Q8
There is a lot to take in with the new Audi Q8 SUV for Erie, PA. It's a premium five-passenger crossover SUV that makes do with a three-liter six-cylinder engine and 48-volt hybrid system. With such drool-worthy engine capacity, the Q8 can hit off 335 horsepower from its all-wheel drive and eight-speed automatic transmission.
2021 Audi SQ 5
The Audi SQ5 comes out as a capable 349-hp turbocharged V-6 SUV with 369 lb-ft of torque. As it stands, the engine also couples up an eight-speed automatic transmission on its all-wheel-drive engine standards. Audi also quotes the SQ 5 SUV capable of 0-60 mph in 4.7 seconds plus a top speed of 155 mph.
2021 Audi SQ 7
Audi unpacks the heavyweight crossovers as a naturally aspirated four-liter twin-turbo V8 engine with a power-dense capacity. Checking our inventory at Audi Erie also reveals the 2021 SQ 7 hits off with an output of 500hp plus 568 lb-ft of torque. Of course, this means the SQ7 tends to be particularly vocal with an assertive tone by default.
2021 Audi SQ 8
For 2021, Audi rolls out the SQ8 SUV with subtle changes in the form of an in-built toll road feature. Aside from this, Audi still maintains the model's twin-turbocharged four-liter V-8 engine to provide that effective yet powerful drive. On paper, Audi quotes the engine as capable of 500 hp with 568 lb-ft of torque thanks to the eight-speed automatic transmission on the Quattro all-wheel drivetrain.
2021 Audi RS Q8
The RS Q8 is among Audi's top SUV speedster with an acceleration of 0-60 mph within 3.7 seconds. The maximum speed is also impressive, considering it tops 190 mph, far from the reach of a typical SUV. Power is also part of the new RS Q8, with Audi having this model packing 591 hp and 590 lb-ft of torque.
2021 Audi A4 Allroad
This two-liter four-cylinder turbocharged SUV can easily pack an output of 261hp and a torque maximum of 273 lb-ft. Each model is also a seven-speed automatic transmission engine with an all-wheel-drive technology to allow a top speed of 130 mph.
2021 Audi A6 Allroad
2021 also sees the legendary A6 Allroad SUV continue to reinvent trailblazing opportunities, thanks to 335 hp and 369 lb-ft of torque. This performance is possible due to the SUV packing a three-liter six-cylinder engine that couples a seven-speed automatic transmission and the Quattro All-Wheel Drive.
2021 Audi RS 6 Avant
Audi has the RS 6 Avant as a high-end SUV edition that packs a turbocharged four-liter eight-cylinder engine, making it capable of 591hp and 590 lb-ft of torque. The SUV is also an eight-speed automatic transmission with an all-wheel drivetrain for a better driving experience. With such a combination, this powerplant is capable of 0 to 60 mph in 3.5 seconds.
2021 Audi E-Tron
For starters, this fully electric four-seater SUV runs on an 82 kWh battery plus twin electric motors to achieve its range capacity of 280 miles. The current E-Tron lineup will have its electric luxury crossovers in two trim levels: Audi E-Tron and E-Tron Sportback for that varying driving experience around town.
How About A Test Drive?
Rather than be left out, schedule a test drive with our team at Audi Erie for that excellent first-hand experience. Don't hesitate to contact us on the best offers for all new Audi SUVs in and around Ashtabula, OH and Jamestown, NY.