New Audi SUVs for Sale in Erie, PA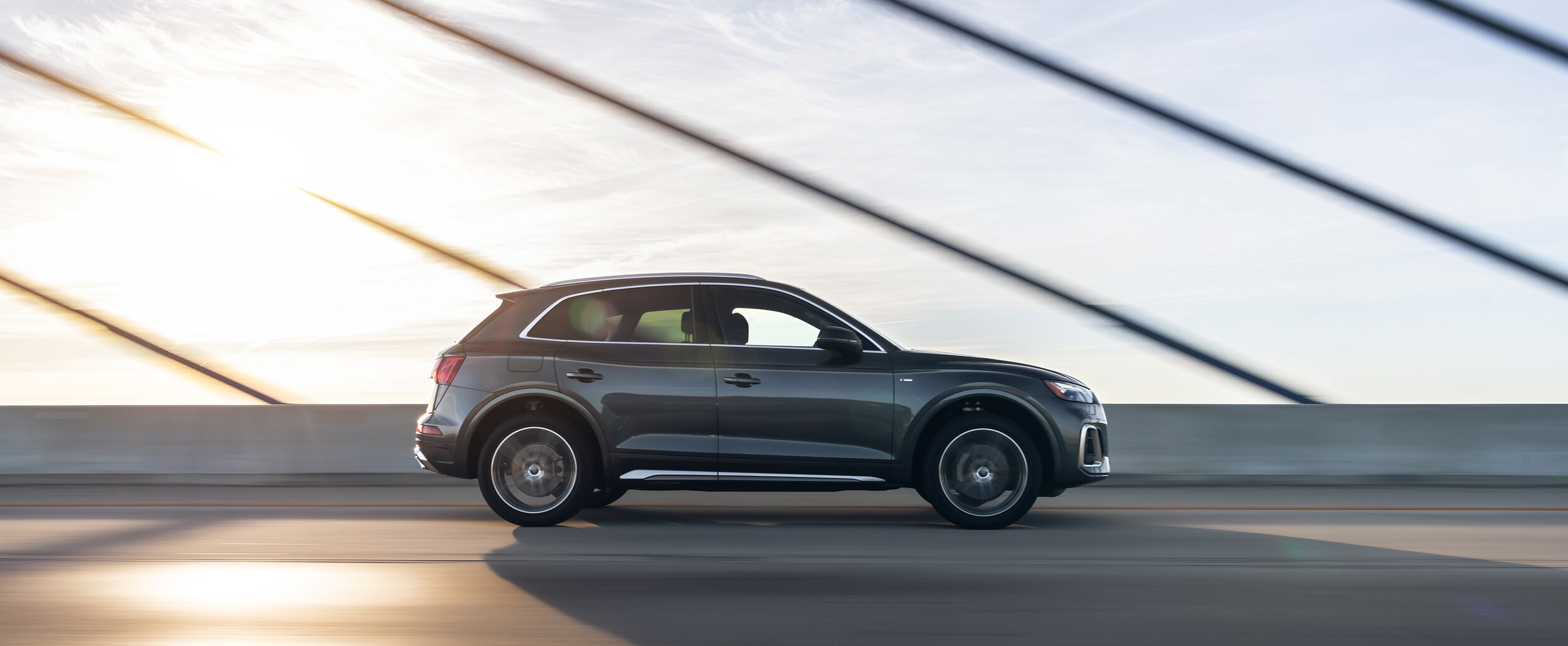 Check Out All of the New Audi SUVs at Audi Erie
There are a lot of reasons you could be searching for a new luxury SUV near Meadville, PA. You might want something more than a driving experience that is competent, but mostly vanilla. In fact, you might want to enjoy your daily commute. The world of luxury SUVs is filed with options that emphasize performance and capability. The Audi brand has several options that might capture your attention. If you are interested in viewing these models, you should come to Audi Erie, located at 5711 Peach Street in Erie, PA. We have a great selection of Audi SUVs that is sure to impress drivers all over Northeast PA and beyond.
New Audi SUVs for Sale in Erie, PA at Audi Erie
If you have been shopping luxury SUVs in Ashtabula, OH with no luck, it may be time for you to make the short journey to Audi Erie. We have all of the most popular Audi SUV models in stock for you to peruse. How can you tell which Audi model is right for you? We have a knowledgeable team of sales consultants that can answer all of your questions. They are the experts when it comes to the Audi lineup.
When you shop with our dealership, you will come across all a variety of choices. Some of the Audi SUVs you might see include:
Audi Q3
Drivers who are looking to get around Jamestown, NY in a small luxury SUV that offers them a comfortable ride and a cavernous interior may want to explore the Audi Q3. It gives folks who get behind the wheel impressive performance and handling when they are on their daily commute.
Audi Q4 e-tron®
Are you looking for an SUV that will help you reduce your carbon footprint. You may want to check out the Audi Q4 e-tron®. It is an electric SUV that gets an EPA-estimated 250-miles of range on a single charge. Drivers can also count on a vast array of standard and available technology when they choose the Audi Q4 e-tron®.
Audi Q5
Unlike some of its rivals, the Audi Q5 comes standard with all-wheel drive. That feature comes in handy when you are navigating the area roads in the winter. It also features a comfortable interior and an abundance of standard and available features for people looking for a small luxury SUV.
Audi SQ5
People who consider themselves performance-oriented may enjoy what the Audi SQ5 has to offer. It comes standard with a 3.0-liter turbocharged V6 engine that pumps out 349 horsepower and 369 pound-feet of torque. Not only is it powerful, but the handling of this luxury SUV can be described as "agile."
Audi Q7
Do you want a midsize luxury SUV that is going to offer you third-row seating and outstanding performance? If this sounds like what you want, the Audi Q7 might be the right fit for you. It is also known for having a refined interior and a wealth of standard and available safety features.
Audi SQ7
Underneath the hood, the Audi SQ7 comes standard with a 4.0-liter turbocharged V8 that pushes out 500 horsepower and 568 pound-feet of torque. Additionally, it also has third-row seating. Folks who enjoy the Audi SQ7 are interested in having a family vehicle that can also provide lots of fun. Despite all of this power and its size, the Audi SQ7 offers superb handling.
Audi Q8
There are a lot of folks who want to buy a luxury SUV that exudes sophistication and grace. If you consider yourself one of these people, you may want to get into the driver's seat of an Audi Q8. It has an elegant interior, as well as a smooth, comfortable ride. Also, it has many standard features that you might love.
Audi SQ8
Just like the Audi SQ7, the Audi SQ8 comes standard with a turbocharged V8 engine. The Audi SQ8 is also a beacon for performance and handling. You will find precise steering when you are behind the wheel of this Audi SUV. Despite being focused on performance, you can still get a comfortable driving experience when you are behind the wheel.
Contact the Team at Audi Erie
We know that Audi SUVs can impress when you get into the driver's seat. Get in touch with a sales team member at Audi Erie today, so you can test drive the Audi SUV that has captured your imagination.
Due to ongoing parts shortage issues impacting global production, the availability of some equipment, options or features may be limited. Please contact your local Audi Dealer for more information, and be sure to verify the vehicle you purchase includes all expected features and equipment. Thank you for your patience as we work to navigate these limitations.